BLACK TALON
Edinburgh, Scotland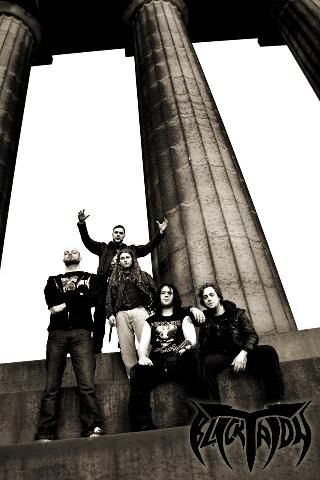 United by a desire to create uncompromising thrash metal, Black Talon began with a jam session in mid-2010 that resulted in enough riffs to sink an aircraft carrier. The line-up filled out and the first songs took shape over the following months, with the band playing their first show in November 2010.
Fueled by the positive response to these early performances, Black Talon recorded a 3-track demo that provided a snapshot of their still-developing sound in early 2011, all the while writing and refining ever-more-ambitious new material. Since then they have forged a reputation for providing exhilarating live shows by playing all around the UK – sharing stages with bands such as Warbringer, Onslaught, Gama Bomb and Aura Noir - winning fans with their high-energy, relentless thrash barrage.
Musically, Black Talon take their cues from classic thrash in the vein of Forbidden, Dark Angel and Exodus but are not just another 'revival' band content to rehash a few riffs from the 80's, instead they have the ambition to build monstrous, twisting songs that combine modern technical flourishes and mind-bending time signatures with the furious straight-up speed and hooks of their thrash metal forefathers.
Since their recent signing to Wasted State Records, Black Talon have unleashed the 'Incinerator' Single and music video, paving the way for their debut full-length release in 2013!
'Incinerator' Video:
Facebook:
http://www.facebook.com/blacktalonthrash